2023
In this performance, Athena takes you on a journey of Discovery into what it means to live in a queer body. An unexpected learning through the bones, skins, and blood of people's identity as disabled or chronically ill. Athena is guiding you back to your body, your house, your home.
Synopsis:
A figure coming on the stage, wearing a grey voluminous duvet-coat, a black harness and orange round glasses. Slowly the human will get undressed and will discover their body bites by bites. In the background, the soundtrack is:
15 anonymous voices identifying as queer and chronically ill or/and disabled, sharing their experiences with their body.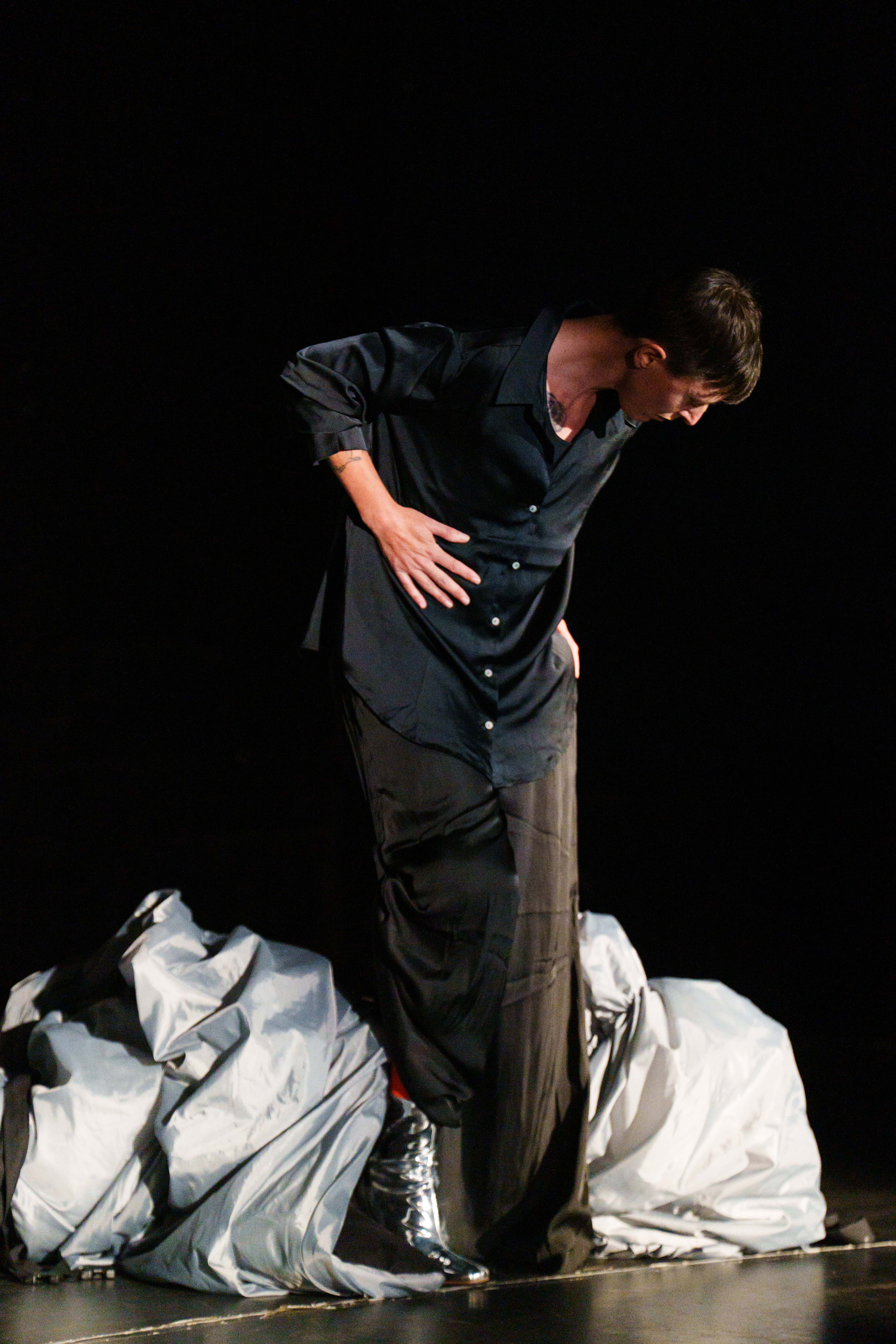 Text of the soundtrack:
Materiality:
Orange round glasses, grey-duvet coat and black harness, mirror silver shoes, black shirt and trousers, black underwear, added muscles fabric, beige skin colour leggings, orange socks, orange lenses and a soundtrack.
Andi Walker (They/Them): Clothing designer.



Duration:
10 minutes
Credits:
Michael Godsall
in response to the work: PUMPITOPERA TRANSATLANTICA, Mexa collective, Micro-commission, Transform Festival 23, The Warehouse in Holbeck, Leeds
Remember your taste
2022
Performance with Kp Culver and Orange Ibreck
Synopsis:
It is an exploration of the different links between a body and its onlookers, how the audience experiences intimacy and connectivity through the language of the body. This work aims to test communication between bodies and space through movement and music.
the audio-description of the bodies in the soundtrack
︎
Materiality:
soundtrack, 80 plaster sculptures of fingers-hand gestures linked to sex, in different shapes of brown, grey, black and pink
Duration:
20 minutes

LIVE HOLBECK!
Scratch night, Slung Low, Leeds, UK
Inner Child
2021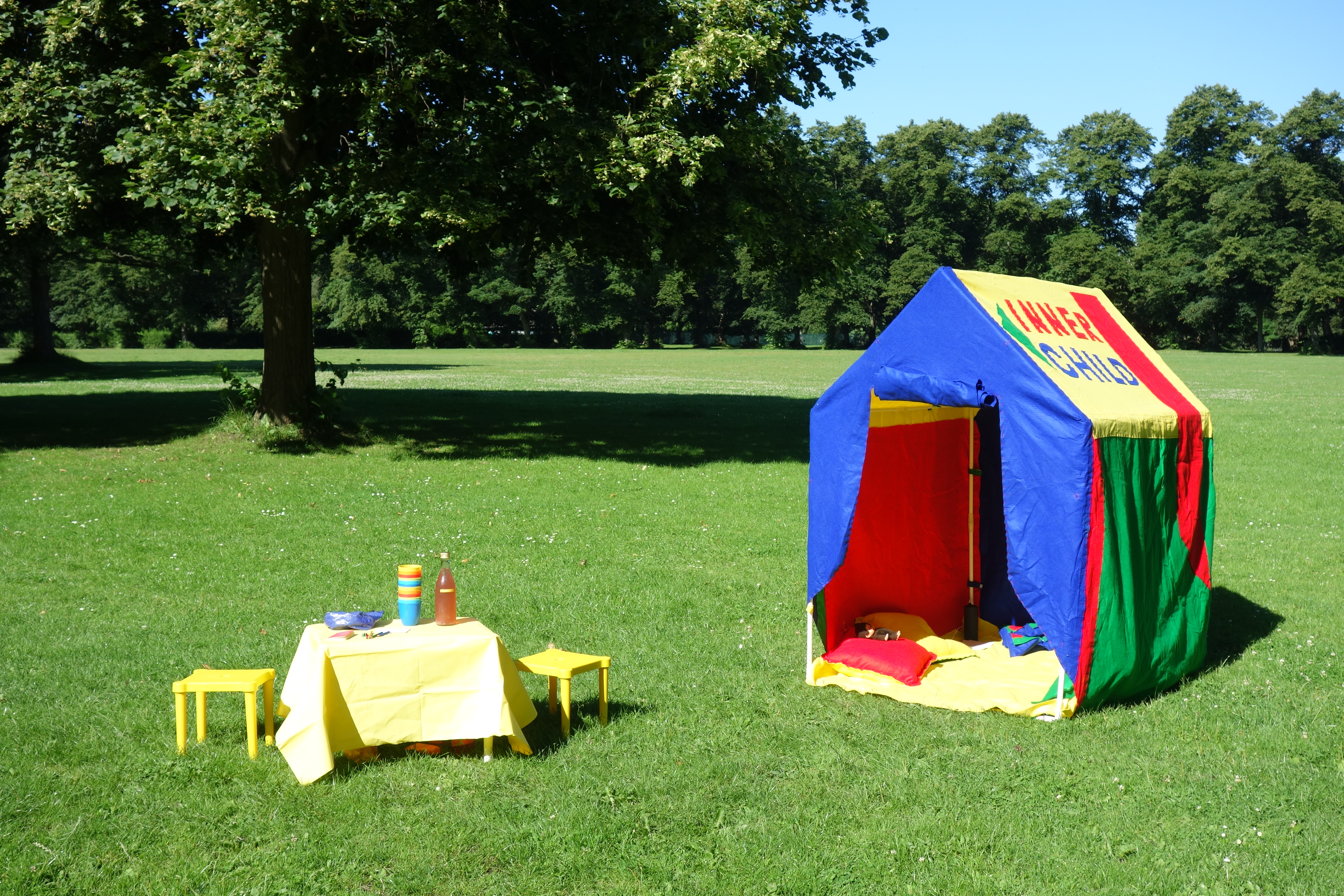 Synopsis:
"Inner Child" is a one-to-one performance, where the audience member is invited to talk with me – and I with them – about our childhoods, through memories, through one or a few chosen subjects, printed on cards.
.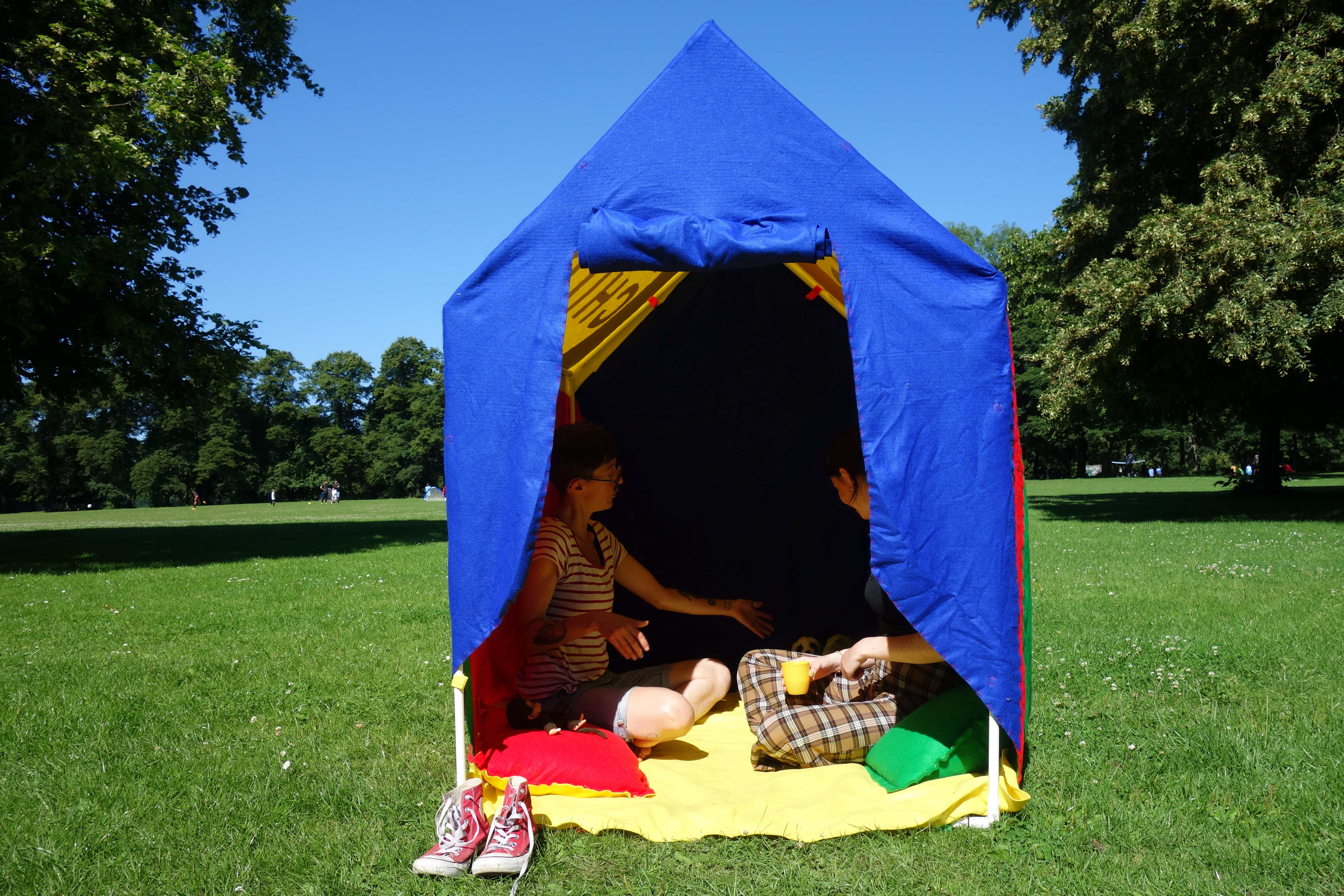 There are 38 cards representing the 38 years of my life, and 38 subjects linked to my childhood. On the reverse side of the cards, there are drawings made from my childhood photographs, using one to five drawings for each card.
Thesoft toy collection is used as safe words: if audience members or myself are not comfortable during a conversation we can use them to signal that we would like to change the subject or to leave the space.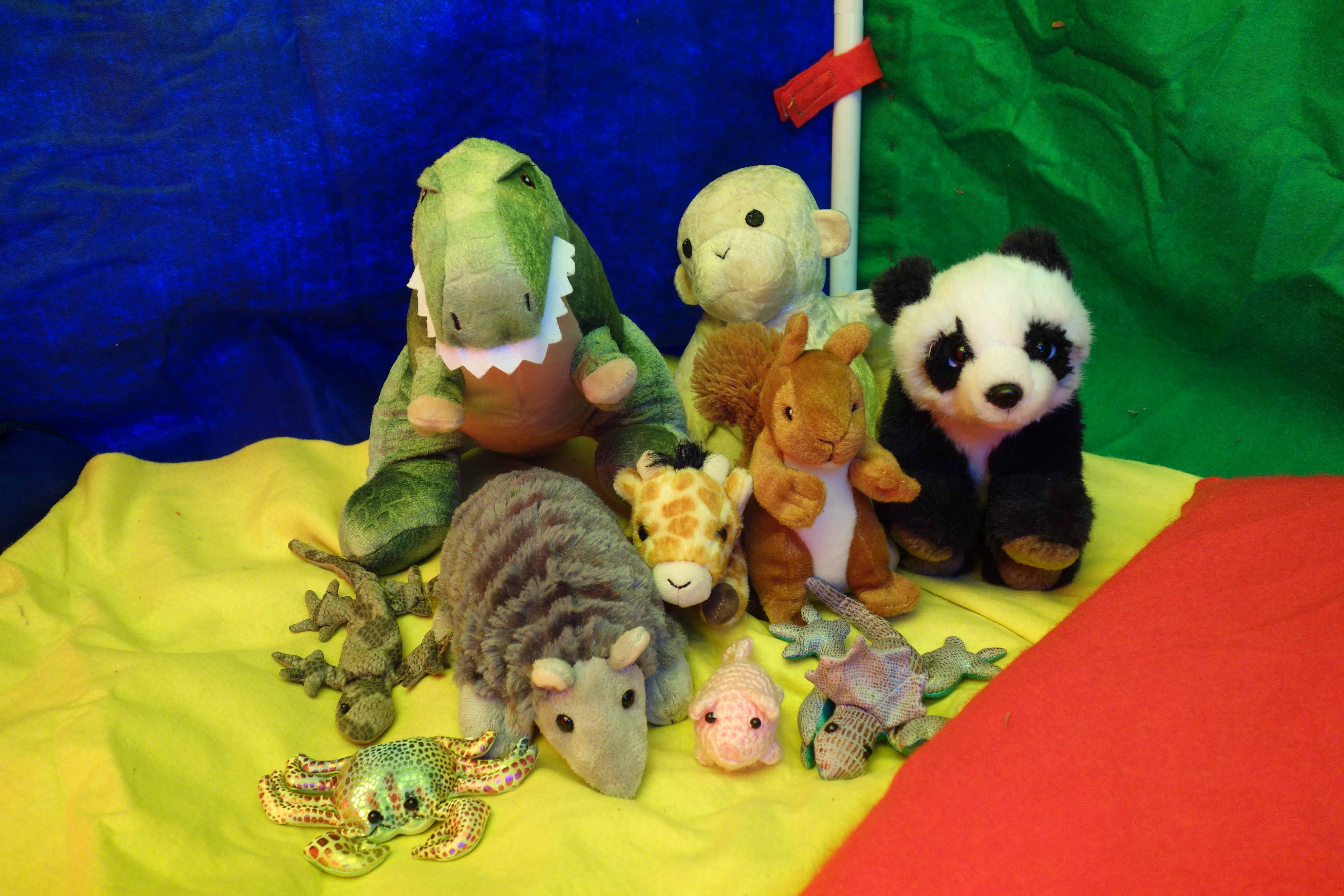 The duration of the performance is a maximum of 20 minutes, which is the length of the soundtrack, but of course, the audience member is invited to stay for as long as they feel comfortable and they can leave at any time.
At the end of the performance, audience members receive a party bag and an emotional support card with a number to call if they need psychological support.
Scenography:
A felt children's hut; green, yellow, red and blue cushions; a yellow blanket; 10 party bags; softs toys; 10 plastic cups; raspberry lemonade; a small red note book; crayons; a portable speaker; an iPod.
Hyde Park, in the park, Leeds, UK
Duration:
6 hours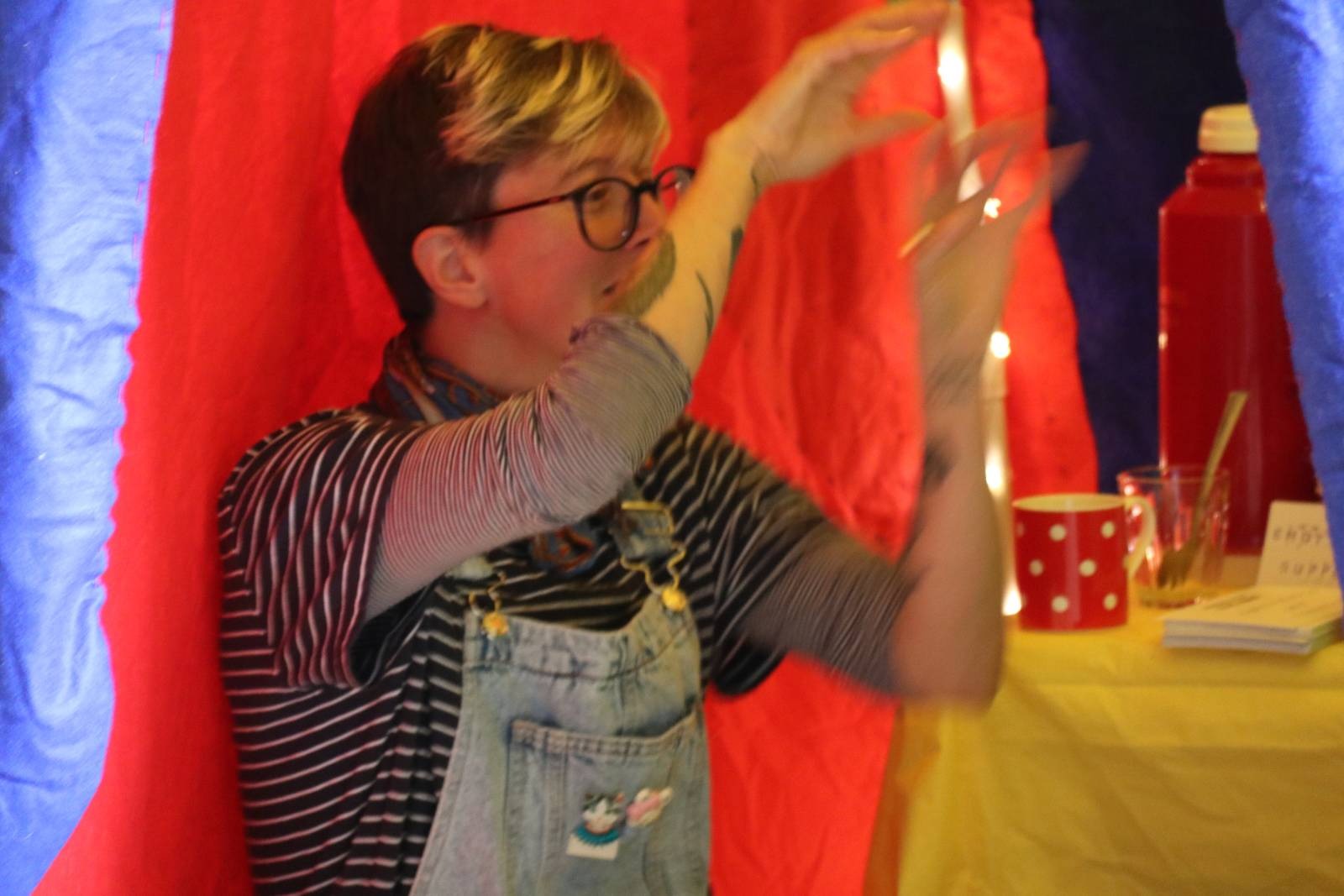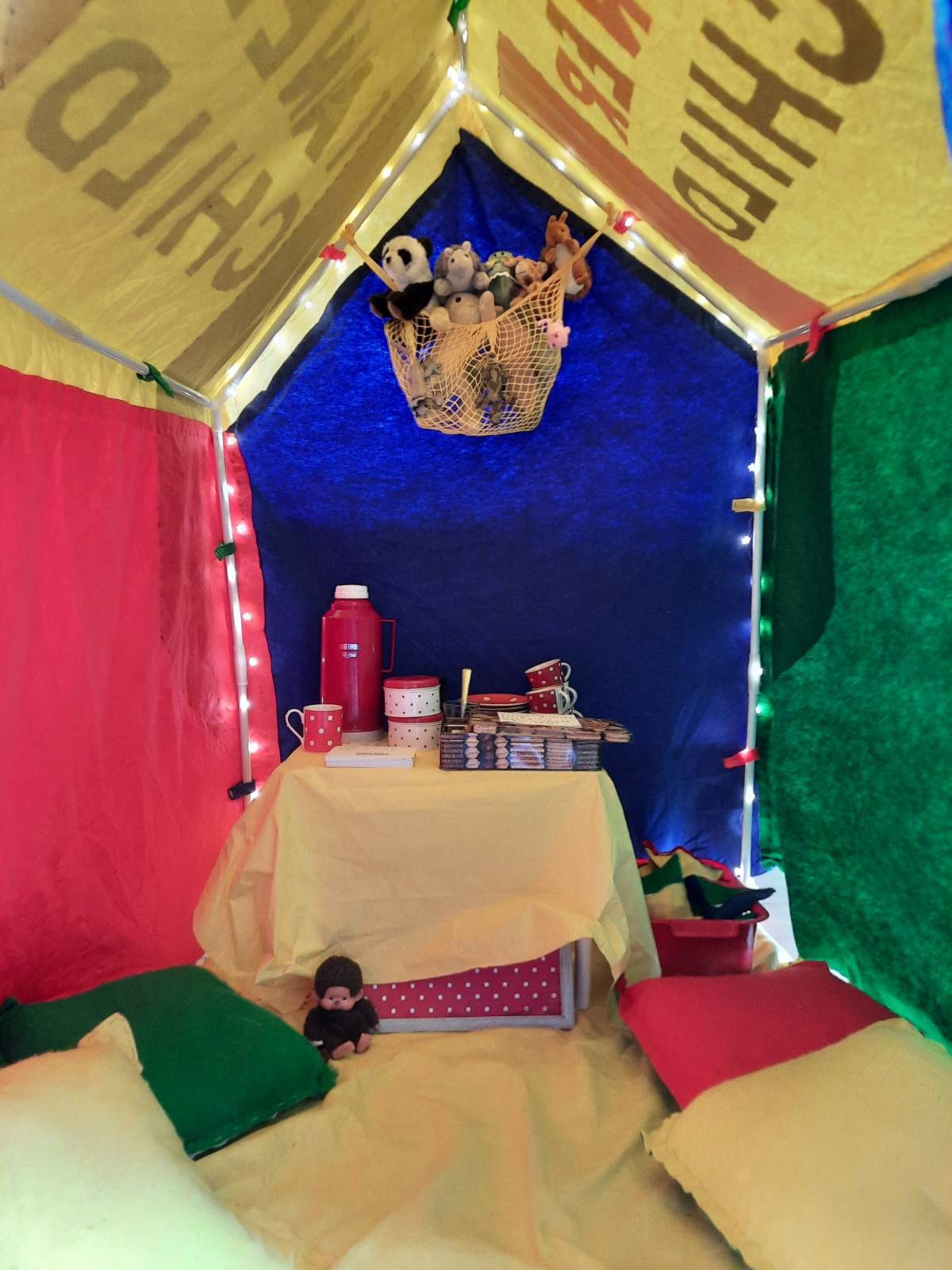 Scenography:
A felt children's hut; green, yellow, red and blue cushions; 15 party bags; softs toys; red with white dots small plates and mugs; a biscuit box with bricelets; 3 tea boxes; 39 postcards, a list of ingredients; a red one liter termos; a portable speaker; an iPod.
Emergency 22, One day performance Festival, Contact, Manchester, UK, 2022
Duration:
5.30 hours
Credits:
Nicky Murmann & Tamsin Drury
Hand washing
2020

︎

Text in the film is below and the sentences in bold are whispers.

Materiality:
video

Duration:
7.16 minutes
Cis men: roots aren't sweet
2019



Synopsis:
Cis men: roots aren't sweet, is a kind of report and fight back to personal experiences linked to ex-cis-boyfriends,
cis-men that I was dating or seeing, and their behaviour or comments linked to my body. The sweet potato is a reference to skin and everyday misogyny. The roots of the potato relate to the passing of time and the
infiltration of the ideology of patriarchy.
On the potatos are cards : CIS MEN: ROOTS AREN'T SWEET, NICKY MURMANN 2019.
On the other side: KEEP IT SIMPLE. RECORD YOUR SPONTANEOUS SONG, TEXT OR POEM. YOU CAN SING, SHOUT, WHISPER OR JUST SAY IT. I WILL ADD THE SOUNDTRACK TO MY PLAYLIST, WHICH WILL BW AVAIABLE ON SOUNDCLOUD: CIS MEN: ROOTS AREN'T SWEET.
Cis men:roots aren't sweet, the playlist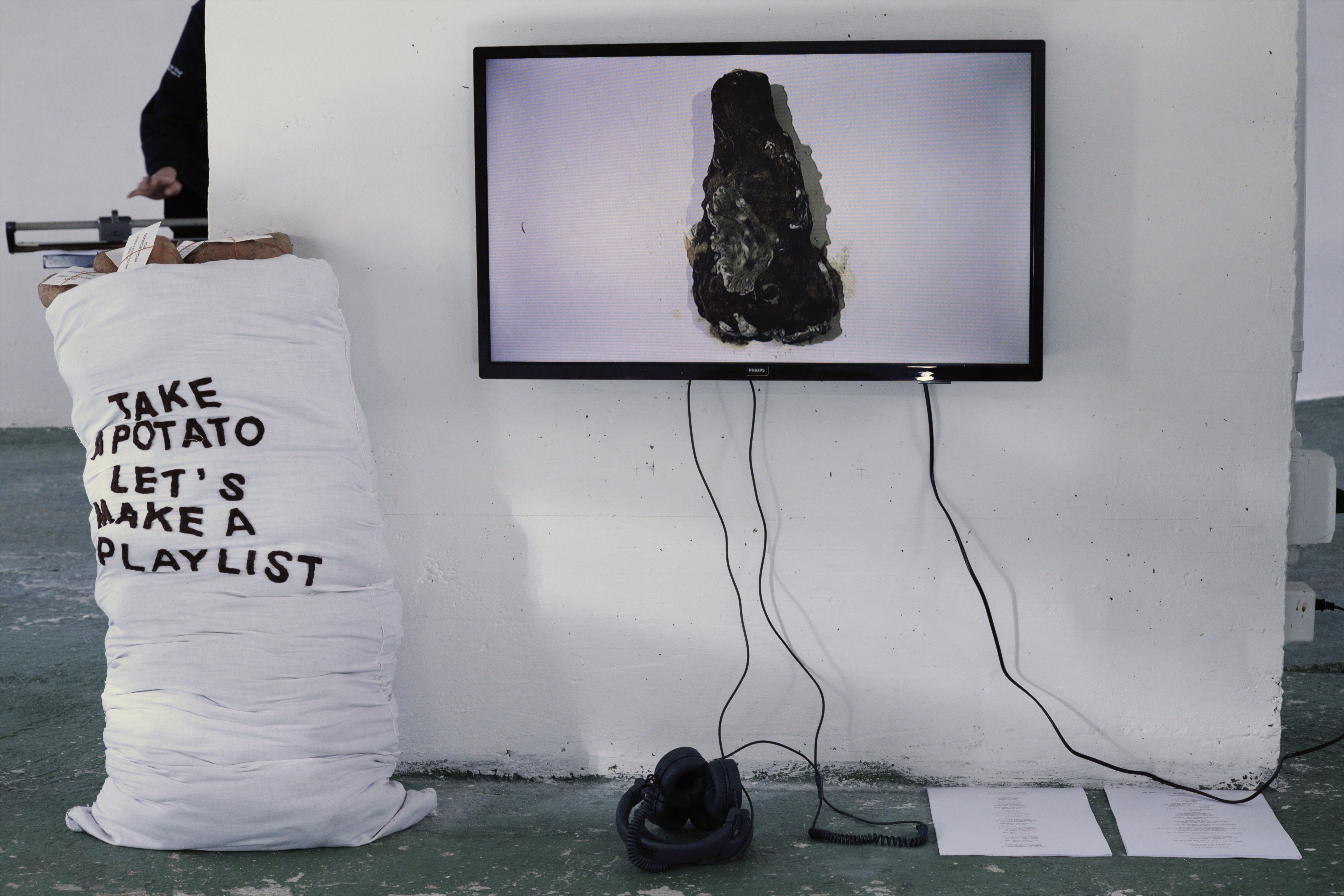 Text in the film:

Materiality:
headphones, film, sweet potatoes, cards, emboided bag, two bed sheets as pilow.

Heavy Souls, Queerology collective, Emergency Art Space, Vevey, CH

Duration:
4.31 minutes

Credits:
Naomi Gilby
Les encouragements
(The encouragements)
2014
Synopsis:
a mix of recording in boxing rooms, in Geneva (CH) and Paris (FR) during trainings.
Materiality:
soundtrack

Duration:
0.46 minutes
Senses of being
2023
Synopsis:
This film features three queer people sharing their experience of intersectionality through their intimate relationships to significant objects and the spaces in which they feel connected to their mutiples identities.

The collection of golden animals are belong to the artist. They symbolise important stages of live and people who shaped, cared for, and nourhised them. The plant represents the journey of their recoveries.

Materiality:
film, a collection of golden animals: 3 dinausors, 2 cats, a fox, a bear, acrocodile, two squirls, a sharke, a hedgehog and a turtle.
Duration:
22:25 minutes
︎
Text in the video:


HERE & QUEER
, Queerology collective, Assembly House, Leeds, UK
What is your definition of disability?
2021

Soundtrack and zine made in collaboration with Vickie Orton.
Synopsis:
The aim of this art work was to explore people's perception of disability. We took it in turns to stand in the middle of a busy shopping street in Leeds over two weekends, holding a large cardboard sign saying 'what is your definition of disability? '. We stood there for up to three hours. Nicky has a hidden disability and Vickie is a wheelchair user, we wanted to see if this provoked different reactions from the public.


Materiality:
video

Duration:
5.21 minutes
Print of actions
2021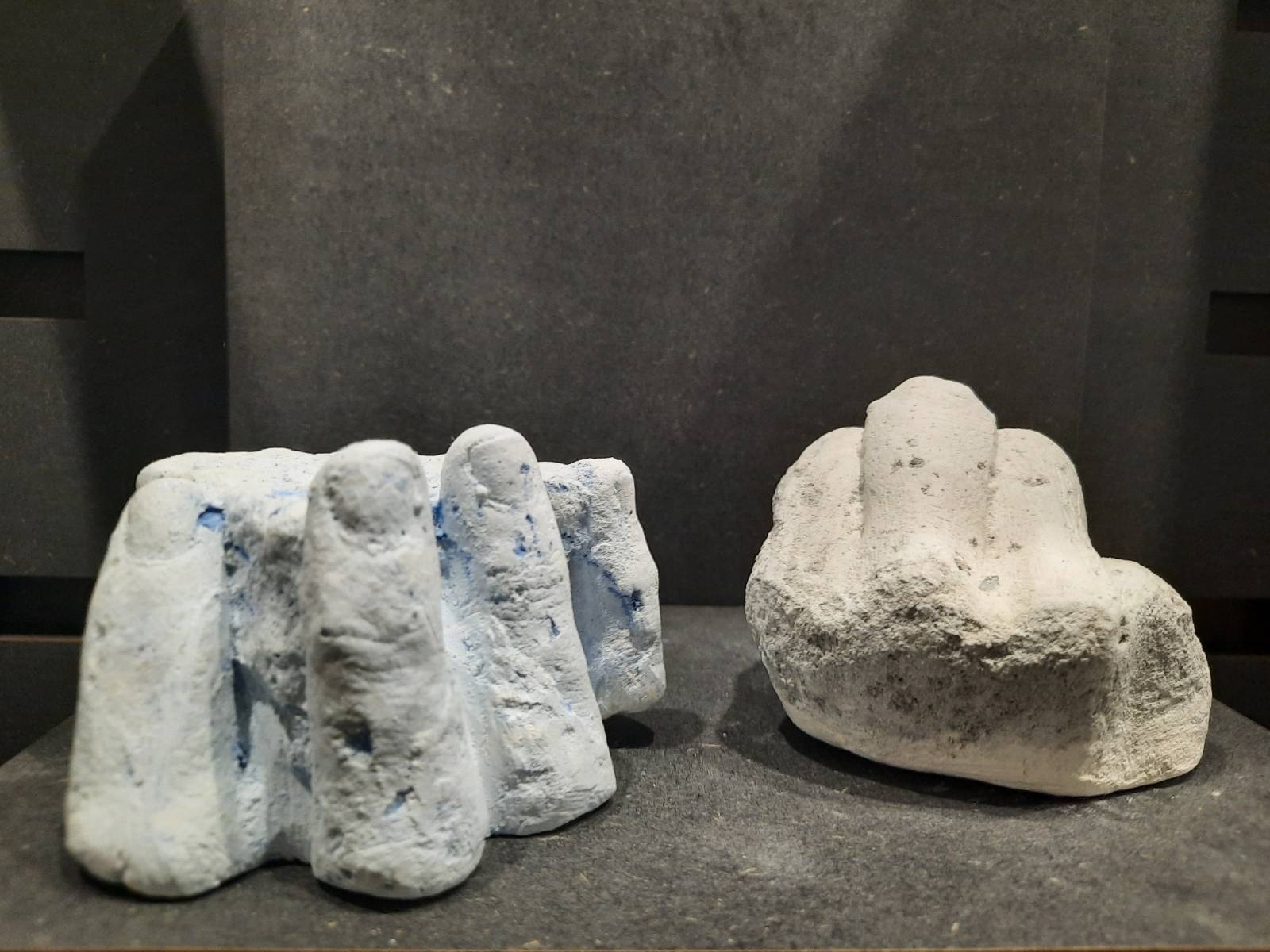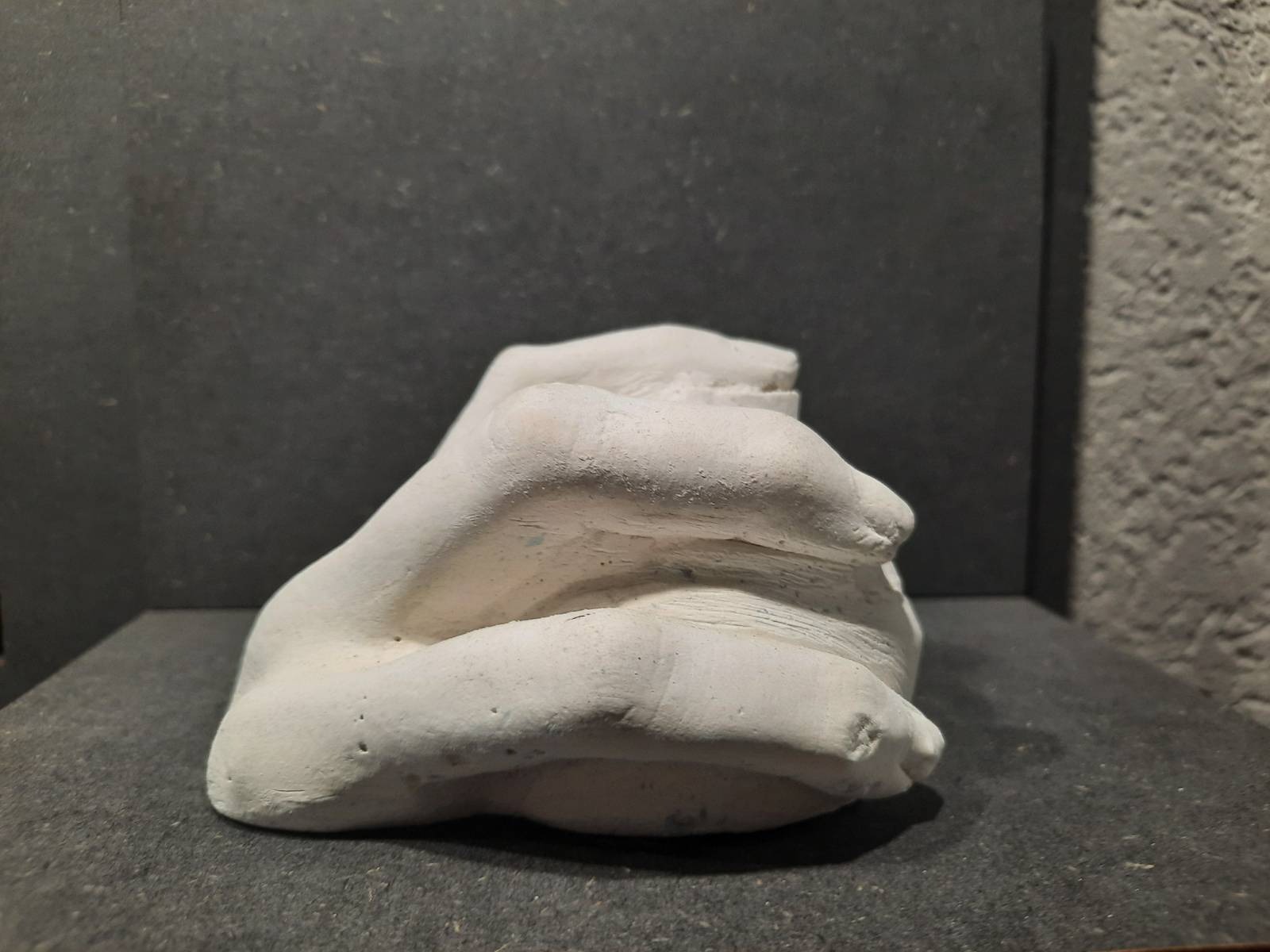 Materiality:
plaster with different type of paint.
20 Sculptures.
Exhibition: To be continued, exhibition with Nicolas Christol (Jewerly), Espace BORAX, Vevey, Switzerland
Muscle Your Heart
2019
Synopsis:
A one-to-one performance about dating, romantic and sexual interactions.
The audience members come in, I welcome them and we sit down on the table. I explain and introduce the performance, witch has two stages: a shared conversation and a treat stage. We talk about consent and that the person can leave at any time if they don't feel comfortable. A 30-minute soundtrack is played during the performance that also indicates the length of it.



The audience member takes a piece of paper from the glass bowl and reads the topic. If they do not like the subject, they can choose any another one. We have a conversation about the subject. When this stage is done, we move to the treat stage. They can choose between: a hug voucher, a heart sticker, a cake or a plant. After that or the 30-minutes soundtrack, the performance is over. The time together is over. We are saying good-bye.


Scenography:
a candle, balloons, cushions, siIver, grey and gold fabric, a golden dress, silver tights, emboided jacket, a portable speaker, a I-pod.

NEWK'ed, CLAY, Leeds, UK

Duration:
4 hours


Kiss In
2019
︎
Text in the film:
Materiality:
video

Duration:
4.15 minutes
What is your definition of queer?
2018


The text in the soundtracks: Meanings and Out of The Blue


Synopsis:
On weekends,in Briggate Street, many people are coming to do political protests (intersectional-feminism, anti-racism, pro-vegan, pro-Corbyn, etc). Linked to the use of this street, I staying still at a fixed location, on Saturdays and Sundays with a large cardboard sign where is written: What is your definition of queer? I decided to record the answers to create a collection of meanings.

Materiality:
headphones, I-Pod, soundtracks: Meanings, Out of the blue and cardboard sign used in the performance in public space.


Exhibition: What have you done for me lately?, as part of Queerology collective, SERF, Leeds,UK

Duration:
19 minutes

Credits:

Griet Beyaert, Leeds Creative Timebank
Materiality:
headphones, I-Pod, soundtracks: Meanings, Out of the blue, red woodenchair.

Exhibition by Rhian Cooke, Heritage weekend, Open at All Souls Church, Blackman Lane, Leeds, UK

Duration:
19 minutes

Credits:
Rhian Cooke
Corps non sportif
(No-sporty body)


2014




Synopsis:
A sound structure interspersed with bell rings between each round and action. A gap between the sound track and the view of a non-sporty body. The soundtrack is a recording of a boxing training match. The body doesn't know how to practice sports.


The different parts of the soundtrack are: running footsteps, breathing, a fist hitting a punching ball, instructions from the trainer, bell ring, punch. The different moves are: fingers moving, walking in circles in a square space, jumping in place, training, punching, and reading out the definitions of "training", "move", "concentration".





Scenography:
soundtrack, loudspeaker, black tape, tracksuit, t-shirt, boxing hand wraps, boxing gloves, boxing shoes.
Master's degree work, HEAD, Geneva CH

Duration:
11 minutes
One-human show
2023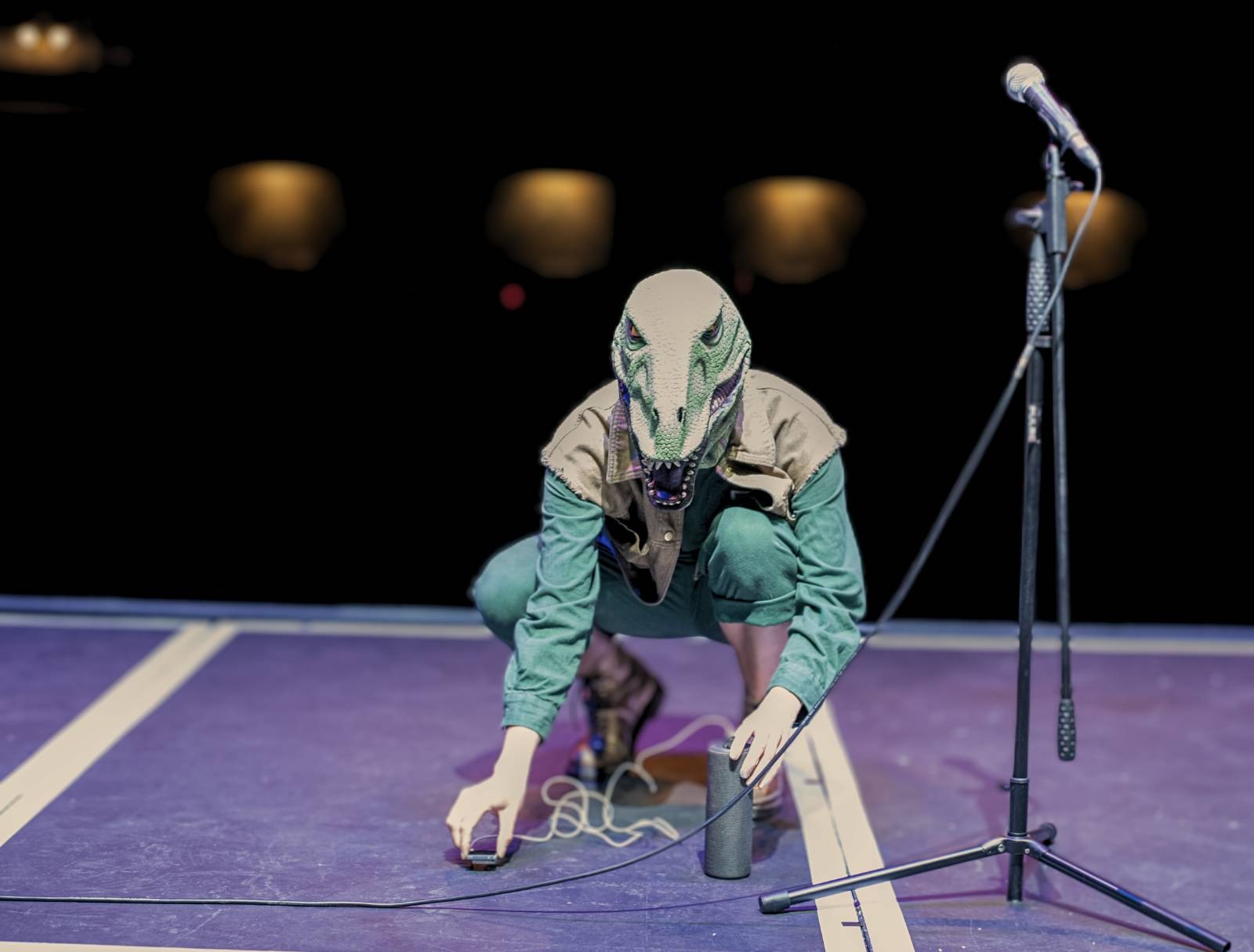 A Performance between story telling and stand-up comedy.

Synopsis:
A person coming on the stage, wearing a green jumpsuit, a golden jacket and T-Rex latex mask. They will put on the floor an i-pod and a portable speaker. For the speaker you can hear the GP voice message followed by classical music. Nicky will share with you their life experiences about sex, dating, being autistic, queer and having disabilities. They congrat themselve with dinosaur stickers and will make music with figet toys.


Materiality:
i-pod, portable speaker, white cable, green jumpsuit, golden jacket with emboided in green in the back:"ONE HUMAN SHOW, two golden and green figet toys, Dinausor stickers, golden Doc Martens.

Duration:
10 minutes

Credits:
KP Culver

Scratch Night, Grand Opera Theatre, ATG, York, UK


Close To Home

2022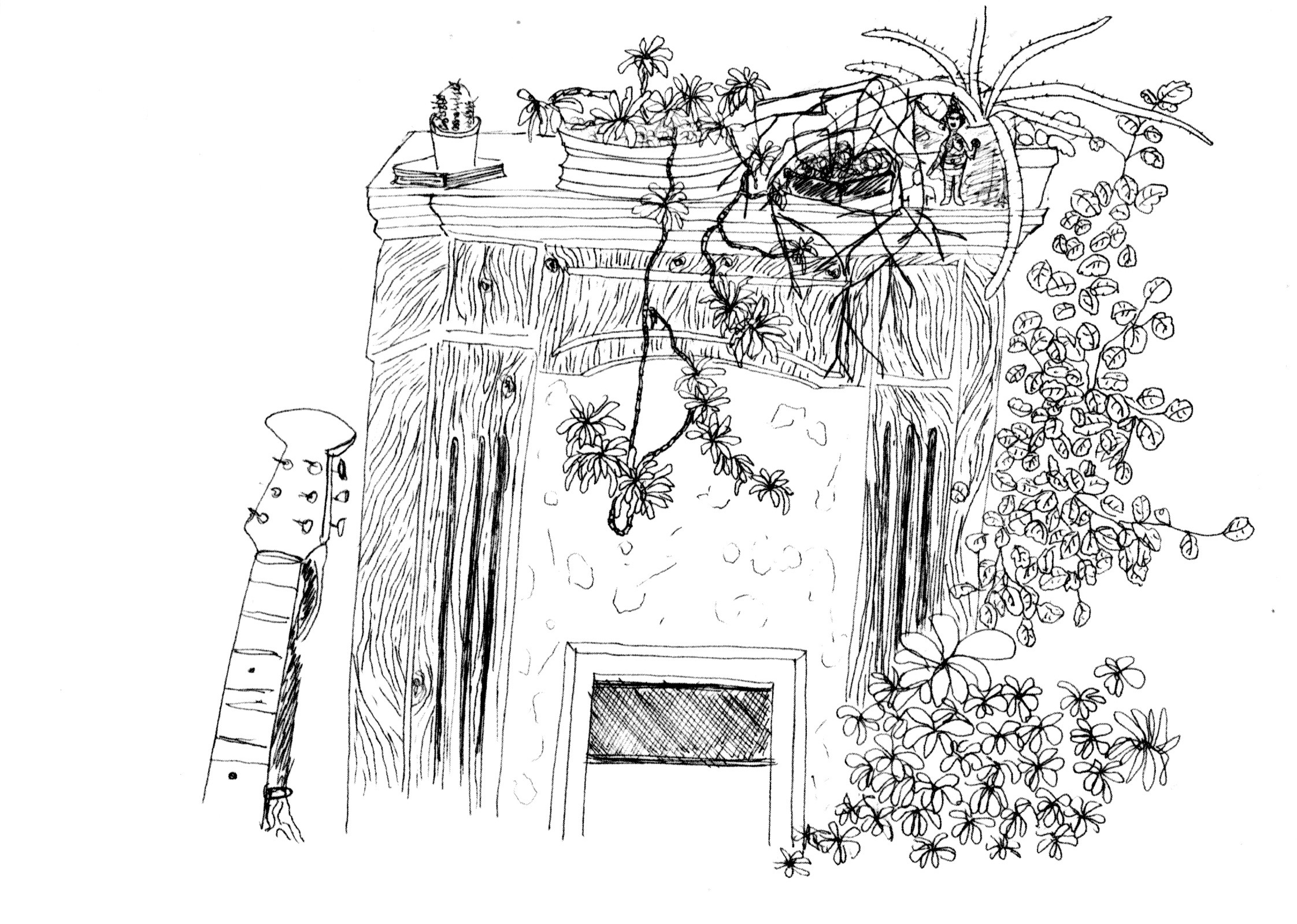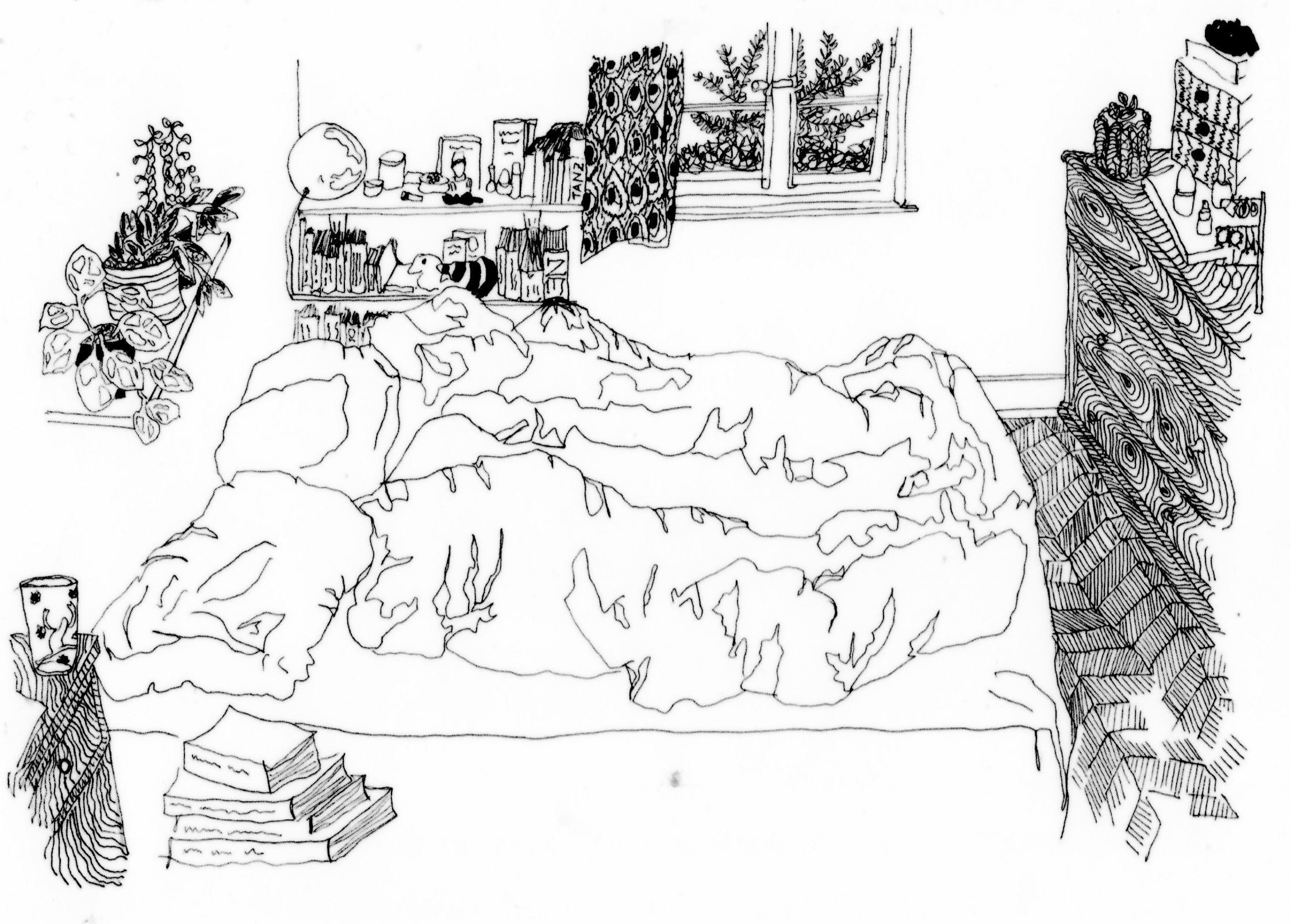 Materiality:
23 Black ink drawings, postcard format: 148 x 210 mm

Assembly House, studio holders, Put your feet up, HPAC, HPBC, Leeds, UK


Ça ira mieux demain
(It will be better tomorrow)
2021
︎


Text transcript, in French:


Text translated:


Synopsis:
A conversation between two artists and friends (in French) drawing links between romantic relationships and art collectives.

Materiality:
video

Duration:
16.52 minutes




Time lies
2021
︎


Text in the video with
soundtrack:


Materiality:
video

Duration:
12.38 minutes


Match Percentage
2020
Dialogue transcript:

Synopsis:
Questions coming from the dating app OkCupid, who is calculating your match percentage with others. My voice is asking (in English) and answering (in French) the questions.
Materiality:
soundtrack

Duration:
3. 29 minutes
1400 Ways of closeness
2018
Synopsis:
A one-to-one performance, who seeks to create a space of intimacy and consent be-tween the performer and an audience member. In respect to the engagement of each person's boundaries, we will explore intimacy and find our own mutual conections and find out how far we, as team, would like to go.



Together, we will choose three questions to answer, to do. The possible actions are:

Can we look into each other's eyes for 10 seconds?

Can we touch each other's eyelashes with our eyelashes?

Can we bite each other's earlobes?

Can we whisper into each other's ears?

Can we blow on each other's necks?

Can we caress each other's laps?

Can we dance?

Can we kiss each other's lips?

Can we hug for 20 seconds?




Can we kiss each other's necks?

Can we hold hands?

Can we touch each other's lips?

Can we suck each other's fingers?

Can we touch each other's waists with our two hands?

Can we rub noses together?

Can we hold hands?

Can we tickle each other?

Can we caress each other's hair?

Can we kiss?

Can we give each other a massage?

Scenography:
Velvet t-shirt and leggins, 20 printed cards

Tempting Failure, Performance Festival,
East Croydon, London, UK

Duration:
2-4 hours. Slots of almost 20 minutes per person.

Credits:
Julia Bauer
Listen through my ears

2018
Synopsis:
a one-to-one performance, where you are invited to go on a 10 minute soundwalk with headphones, (with a choice of three categories: Languages, Orientations and Every Day), and at the end of the walk you will met by the artist who will tell you a story related to your choice.

This piece includes a map, with three paths to follow. It is about the journey, sharing my memories about silence, the past, the present, and about the space between you and me and all the sounds that surround our lives.


Orientations
Languages
Every Day
Scenography:
embroided denim jacket, blue one-zip, blue trainers, blue earings, blue zines, printed postcards, i-pod, blue headphones and a map


Soundwalk and text reading,
between Hyde Park Book club and Meanwood Wood,
Landing Party, Leeds Beckett University, Leeds, UK

Duration:
3 days, 6 hours per day

Credits:
Vicky Matthers/Iconphtomedia
Letzter Schluck
(Last Swallow)
2016



Synopsis :
I am wearing underwear, my feet are bare. I am standing in front of a high square table filled with glasses containing white wine; it pitches. I quickly drink the contents of twenty-odd glasses, which I then let fall to the ground. The glass breaks. I gradually become drunk; this simple gesture becomes more and more tricky.



I violently throw several alcohol-filled glasses to the ground. I am soaking wet. I then offer the wine glasses to the audience. I move around with two glasses in my hands at all times; in between, I drink several glasses. I drink the last glass of white wine. I break it. I take the table and leave.



Scenography:
A high square table, a vest and flesh-coloured pants, ninety glasses of white wine, six litres of white wine.

For the finishing of the exhibition: Young Art, Körper und Raum, Zeughaus Kultur, Brig, CH

Duration:
20 minutes

Credits:
Christelle Becholey Besson